ULCERS: Why Am I Burning!



February 28th, 2005

By Sal Roach




Over 10 million Americans suffer from Ulcer related conditions each year, but nobody really knows why. Once thought to be brought about by spicy foods and stress, that myth has been erased as the health care community searches for answers.


The most common ulcer is the Peptic Ulcer, in which a sore develops in the lining of your stomach. These are also referred to as Gastric Ulcers.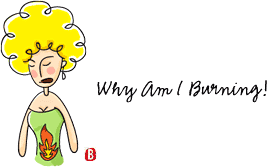 Although there are many symptoms of an ulcer that are similar to those of a normal stomach ache, a defining factor in determining that it may be an ulcer is a sharp, burning pain that comes on a few hours after you eat, in the middle of the night, or at the moments of great stress or anxiety.


Your body naturally produces acids that help to break down and digest food. When the stomach lining breaks down, there is nothing to protect the stomach from the acid. This is the pain you feel.


A common misconception is that stress and spicy foods can lead to an ulcer. While these things can make an ulcer worse or ignite a pain attack, they are never the cause of the actual ulcer.


While the at risk age is usually above 50, those who engage in heavy drinking and smoking as part of their lives, even in a recreational manner, are more likely to get ulcers.


Most ulcers are only the result of a bacterial infection, and will pass by themselves with little treatment in two to three weeks. Still, if you suspect you have one, consulting your physician is a must.


The other 10 percent of Ulcers are caused by taking too many anti- inflammatory drugs such as Aspirin and Ibuprofen. Be careful how much of these two you take when you have a headache or are felling stressed. Consuming too much will eat away at your stomach lining and cause a severe ulcer.


There are no over the counter medications that will cure or help treat an ulcer. All they do is ease the pain. A prescription for antibiotics by your physician should take care of everything.


Although there is no known cure or way to prevent the spread of the bacteria that causes ulcers, it is generally thought that washing your hands often can help to be a preventative measure, but that's true with almost everything.


A common mistake made by people taking medications for Ulcers is to stop taking the antibiotics or combination of medications after the pain has gone away. You need to think of an ulcer as a Volcano. Although it is not always erupting, it could get set off at any time. Listen to your doctor on this one.


If you are currently taking medications for other pain related illness, you should be sure your doctor knows everything you are putting into your body, as mixing medications, even over the counter meds, could be devastating.


If you are looking for a natural way to fight the pain or onset of ulcers, it is said that not reclining or laying down for two hours after you eat will strengthen your resistance, so eat earlier and resist the temptation to crash after you've digested. Sleeping with your feet elevated can also ease the stress on you stomach lining, not to mention strengthen your lower back, but that's another story.



View Previous Articles