Concentrate on This!
An in depth look at ADHD


November 9th, 2004

By Sal Roach




ADHD. Every parent with a hyperactive child knows about this, and it is becoming a favorite catch word for people who can't seem to pay attention to one thing for very long.


Attention Deficit Hyperactivity Disorder is a chemical reaction to a lack of proper activity in the frontal lobe of the brain that causes people not to be able to concentrate on one thing, causing frustrations and feelings of being a social outcast.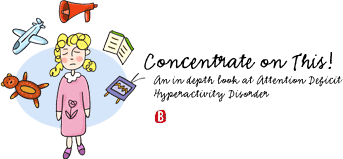 This syndrome usually occurs in children and is often times diagnosed with unnecessary drugs, which can cause even more problems for the child. You need to know what it is that you are dealing with before you start medication.


There are three main symptoms of ADHD: Hyperactivity, acting on impulse without thinking, and lack of concentration. Usually they develop in that order before the age of 7. The problem is that if children these days show any of these symptoms, they are automatically castigated to being an ADHD child, when they may in fact be a normal kid with an active imagination.


To diagnose a child with this condition, multiple signs of these characteristics must be prevalent in a pattern that crosses over into several situations, ranging from home environment, to social settings to school. Again, every child goes through this in some regard, but it is up to the parent to monitor their child's behavior to make sure there is not a common theme of disorder running through their lives.


The question arises that a child should be able to do as they please in order to feed their imagination. While this may be true, the effects of ADHD untreated later on in life could cause people to drift aimlessly without directions instead of achieving planned out long term goals, which as well all know, is very important for success later in life.


Although the exact causes of ADHD are not precisely known, it is generally believed to be a genetic trait passed down to the child. While there are some situations where a child will develop ADHD to counteract a problem at home, the large amount of cases are genetic problems, and can therefore be diagnosed and treated.


Parents who smoke and drink when they are pregnant, as well as second hand smoke, has been found to inhibit early frontal lobe growth, which can cause genetic malfunctions in the ability to have a clear thought.


You should also be watching what you feed your child. Studies by the National Institute of Health found that sugars and food additives at an early age can lead to extreme hyperactivity, which is a gateway to ADHD.


As for medications, that is a personal choice for each parent, and should be carefully thought of before prescribing for your children. Usually, if the problem is discovered early enough, it can be worked out with natural methods that involve time and some difficult moments, but there are never side effects from those.


Many of the drugs that combat ADHD are filled with a stimulant that works to combat the child's natural hyperactivity. The wrong dosage can literally string your child out on speed, so be careful.


Methods such as developing a daily schedule so that the child, and in many cases, the adults, will help them reach short term goals and teach them how to follow directions, which is one of the hardest things for someone with ADHD to do. Make sure the child writes down what the assignment is in school. It will help them develop memory skills that are many times absent.


Adults who are claiming to have ADHD are mostly wrong. This MUST be developed at an early stage in life. IF you are experiencing these symptoms as an adult, it's probably something else, not a genetic disorder.


As with most things, finding this early on can help to make it easier for your child. In classroom with 30 plus children all demanding the teacher's attention, there is often little time to watch each child and diagnose their actions. Parents should be watching the patterns of their children for this syndrome, because if not caught early, it could greatly hamper a person's ability to develop their natural talents.



View Previous Articles