HOW DEPRESSING!
The FDA'S new findings show that Anti Depressants may indeed cause suicidal thoughts and actions.


September 17th, 2004

By Sal Roach : eCureMe.com Staff Writer




We are a pill popping, addicted to anything society.


While adults do have the right to take care of their mental states however they wish, a recent decision by a gathering of FDA focus groups and independent studies have raised the issue of giving anti depressants to children.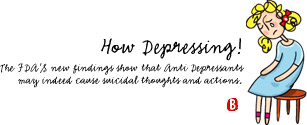 The following statement was released:

The Psychopharmacologic Drugs and Pediatric Advisory Committees regarding reports of an increased risk of suicidality (suicidal thoughts and actions) associated with the use of certain antidepressants in pediatric patients. FDA has begun working expeditiously to adopt new labeling to enhance the warnings associated with the use of antidepressants and to bolster the information provided to patients when these drugs are dispensed.


The drugs used in the study are ones that you no doubt have heard of:


Prozac, Zoloft, Remeron, Paxil, Effexor, Celexa Wellbutrin, Luvox and Serzone.


Recommendations have included that a warning label and as well as a patient information sheet be issued, letting parents know that just because their child is acting a bit out of control or has wandering thoughts, there is no need to put them on medication that can drive them into a deep depression that carries with it fatal thoughts, actions and consequences.


The question as to whether or not these recommendations will ever be put into law is minimal. Last December, George Bush appointed over 100 former Drug Company lobbyists as an independent council that would govern suits made against the drug companies. These members were stationed in the FDA.


Asking your doctor about all of the side effects of any drug you or a family member takes is not enough. There is enough credible information out there for you to inform yourself.


After all, nobody is going to look after your body better than you. I said look after, not at.


Stay informed and as sober as possible. Any drug can alter your mindset.


Be aware.



View Previous Articles