Are You Nuts?
You should be. Eating walnuts can help reduce the risk of heart disease.


July 9th, 2004

By Claudia Lopez : eCureMe Staff Writer
July 7th, 2004 : Physician Reviewed



The latest figures from the United States Center for Disease Control and Prevention show that almost 1 million Americans die each year from diseases related to cardiovascular disorders.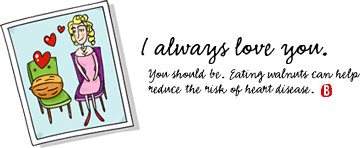 Cardiovascular problems occur when arteries get clogged and blood cannot run properly through to the heart. A major contributor to this killer is the consumption of fat based foods. The saturated fats, which appear in items like onion rings, fried chicken and sticky buns, are the type that is harmful and can cause serious problems with your heart.


Plant based fats that exist in high doses in the likes of Walnuts are now thought to actually lessen the risk of heart disease and other cardiovascular disorders.


The United States Walnut foundation has actually filed a petition with the United States Food and Drug Administration, asking them to back up the claims that walnuts lowered the risk of heat disease. If you'd like to see that form in it's entirety, and if you do you're a little nuts yourself, please click here. http://www.cfsan.fda.gov/~dms/qhcnuts3.html


The omega three fatty acids, of which Walnuts are abundant of, are a great protector of clogging that often occurs in cardiovascular disease. In addition, it is now thought that a regular intake of walnuts can lower your cholesterol levels as well.


Now I know some of you out there are on low fat diets and think that walnuts have a high level of fat. While they do, the fat that walnuts contain is actually a fighting agent for you.


In the studies done, none of the patients gained weight by taking in more walnuts, and some even found the natural fats in the nuts helpful in sticking to a normal diet. In fact, recent studies have also concluded that a regular intake of nuts is a better way to fight weight loss then a diet depleted of fats of all kinds.


This is again a reminder that, despite the best that science has to offer, it is often nature with their natural fats and fibers that do the best job at protecting you from infection.



View Previous Articles