WEST NILE HITS PEAK MONTHS
August and September could indeed be the Cruelest Months.


September 7th, 2004

By Sal Roach : Demetrious Skylar




We are in the height of West Nile Virus season. According to the Center for Disease Control, August and September are the months that carry the greatest risk of getting a mosquito bite that could carry the potentially deadly virus.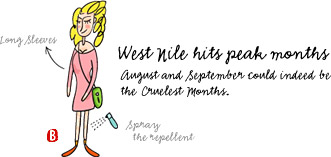 Because of this, you need to be especially careful in the late summer to early autumn months.


Since it is transmitted through mosquitoes, there are a few things you need to remember to do. If you are going outside and are wearing short sleeves, you need to use an insect repellent that contains the chemical DEET. Even if you are just running out to the store, it is better to be safe than sorry, so spray on a little repellent like you would cologne or perfume; It might save your life.


If you do wear long sleeves, do not spray the repellent on your skin. The covering of it with long sleeves could have adverse affects. If you want to double up on safety, spray the repent on your clothes.


For more information on what kinds of repellents to use, please visit: http://www.epa.gov/pesticides/factsheets/skeeters.htm. This will give you detailed information about the repellent that best suits your situation.


Mosquitoes breed in water and damp places, so if you have buckets of old rain water or your drainage system has yet to be flushed out, you could be holding a breeding grown for mosquitoes that carry the west Nile Virus.


If you notice a number of dead birds in your area, you should immediately report them to your local EPA officials. Click here to find the officials closest to you in your area http://www.cdc.gov/ncidod/dvbid/westnile/city_states.htm. Obviously, it would be better to let the experts handle the birds.


As with most diseases and infections, prevention and education are the greatest combatants. If you would like to join or start a mosquito prevention program in your area (yes, the problem has gotten so bad that these now exist) please visit http://www.mosquito.org for more information.


Organize neighborhood clean up days, as mosquitoes do not have to look far for a suitable breeding ground.


If you do not have screens on your window or currently have damaged or open screens, you should think seriously about giving a porthole to these now deadly creatures.


Presently, California holds the highest risk in west Nile Viruses, as over 300 people have contracted the disease this year. Only 1 in 150 people will develop serious illness and possible death from West Nile, but the fear is that the disease could mutate and strengthen. For something without a cure or a reliable treatment, that is frightening prospect.


The increased number of animal cases of West Nile, especially in horses, could cause a second wave of a more deadly epidemic.



View Previous Articles